Frangipani Fragrance Oil, 1/2 fl oz (15 mL) Dropper Bottle
Our Price:
BSD $ 2.29
(25% Off)
Temporarily Out of Stock
Please check back soon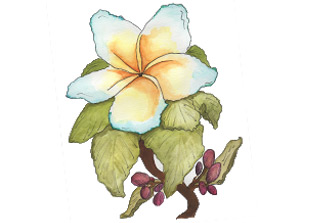 Close your eyes and allow your mind to wander to the exotic tropics of Hawaii, where you're greeted by smiling islanders who grace your shoulders with leis woven together with delicate, fragrant plumeria flowers… Frangipani, commonly known as plumeria, is the quintessence of exotic flowers, their bright colors and soft, captivating aroma dancing on the air and transporting you to the islands of Hawaii and Tahiti. Discover how simple it is to bring the scent of paradise to your home with each bottle of PipingRock's Frangipani Fragrance Oil!
Fragrance
Floral and heady, with notes of jasmine and fruit
History of Frangipani
Also known as plumeria, frangipani is a small, flowering tree native to the Caribbean, Central America and Mexico, though it thrives in tropical locations around the world. It is perhaps best known as the flower commonly used in lei garlands, which are used in ceremonies celebrating life and love, marriage, friendship and more. It earned its moniker from the 16th century Italian nobleman Marquis Frangipani, who famously used the scent of plumeria to scent his leather gloves. Because of this, many perfumes that use plumeria also include a hint of leather, though it also goes well with other tropical scents.
How to use Frangipani Fragrance Oil
Bring the exotic scent of the tropics to your candle making, incense, potpourri, soaps, deodorants and other bath and body products with PipingRock's Frangipani Fragrance Oil!
To learn how to make your own unique homemade candles using Frangipani oil, check out this simple step-by-step on The Pipe Line!
PipingRock's Promise:
We proudly offer you everything you need for an advanced, daily Aromatherapy regiment at the lowest cost in the industry! From Essential Oils to Carrier Oils, Diffusers to Blending Bottles, Beeswax, Books & more, we have you covered. With over 100 Essential Oils to choose from, you can create your own homemade scents and beauty products. Enjoy various blends & Essential Oils Sprays or experience our revitalizing, botanical Massage Oils!
About PipingRock's Quality:
You've found your One-Stop-Shop for Aromatherapy products at PipingRock. Our Essentials Oils are crafted in our own "GMP Certified" manufacturing facilities. We verify PipingRock products with third-party, FDA-registered agencies to ensure quality. Each product goes through hundreds of checks, in-process and post-production. Our outstanding Essential Oils are GCMS tested to deliver guaranteed purity. We offer various 100% Pure Essentials along with other popular, unique blends. We guarantee purity, potency, safety and innovation in everything we do.